---
Technology Skills Come and Go
But what will never go out of date is the ability to build a career that enables you to live a life that you love. Even in an industry that has a reputation for chewing people up and spitting them out.
It comes down to three main strategies:
Decide what makes you happy in life.
Leverage a career in the technology industry to make that life possible.
Stay flexible enough to deal with the turmoil that will always come your way.
---
What's In the Book?
---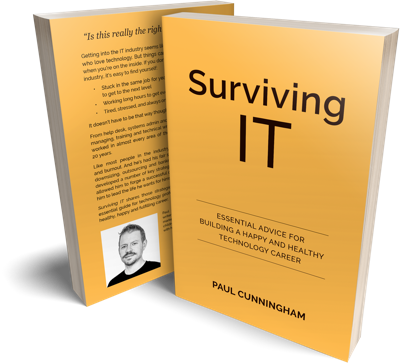 Here's the full list of chapters in Surviving IT.
Introduction – I share with you the life-changing moment that make me wake up (literally) and realise I was on the wrong path.
Chapter 1: The Industry – What the IT industry is really like, why businesses and customers behave as they do, and how to position yourself for the right type of work that suits your goals.
Chapter 2: Finding and Leaving Jobs – Everything from your resume, to dealing with recruiters, interview tips, salary negotiation, and getting off to a great start at your new job. I also cover how to quit, and how to deal with layoffs and job losses.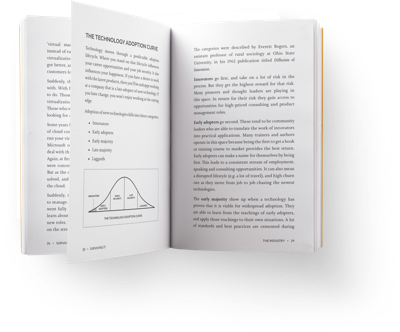 Chapter 3: The Business of You – Build your professional network, moving up the ladder, staying employable, and finding ways to stand out from the competition.
Chapter 4: Dealing with People – Technology is a people business, so I give you tips and strategies for dealing with managers, customers, and working in teams.
Chapter 5: Productivity – Creating the personal habits and discipline to stay on top of your workload, keep projects moving along, and avoid wasting time on things that don't matter.
Chapter 6: Personal Health – There's no success in sacrificing your life for work, so this chapter focuses on balancing work with life, establishing a healthy lifestyle, and avoiding burnout.
Chapter 7: Veteran Advice – I wrap up the book with a series of short pieces of advice that I wish I had known when I first started in the industry.
---
Why I Wrote Surviving IT
Hi there, my name is Paul Cunningham. I've worked in the IT industry for 20 years, from help desk, to systems administration and engineering, consulting, and now as a trainer and technical writer, and occasional conference speaker.
Has it all been smooth sailing? No way. In fact, I've had my fair share of jobs go bad due to downsizing, outsourcing, bankruptcy, and some that weren't a good fit.
Stressed out? Yep, lots of times.
Burned out? I've been there too.
Ready to quit? More than once.
But I've had a lot of great jobs too. I've worked with terrific colleagues and customers. I've enjoyed a career of fun projects, exciting technology, and even travelled the world.
And now I want to help you to build a career that you enjoy too.
In Surviving IT, I'll teach you the mindset, the skills, and the strategies to apply to your own career, so you can avoid the burnout trap, get the job you want, and enjoy a great life-work balance.
---
Sounds a Little Too Easy?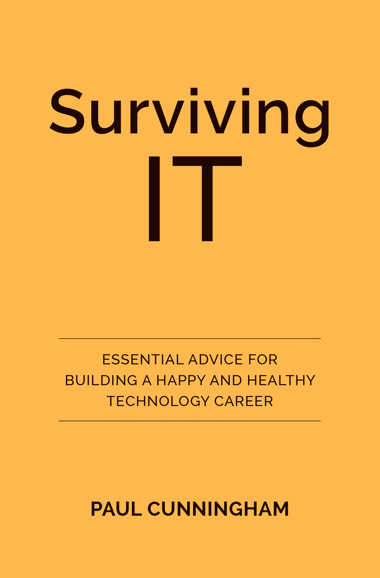 It's not easy. If it were easy, we'd all be happy all the time.
But it's not impossible.
I've done it.
Others have done it.
And now you can do it too.
This is the first step.
Surviving IT is Launching Soon
Join the pre-launch mailing list to be notified when Surviving IT is ready for you.
By signing up you agree that I can send you relevant emails. Your personal information is collected and used in accordance with my privacy policy. I don't like spam either, and I hope you will find these emails useful. If not, you can unsubscribe at any time.
---
Frequently Asked Questions
Who is this book for?
Surviving IT is written for any tech industry professional who feels stuck, is struggling in their career, or starting to feel that they just aren't suited to work in the tech industry. If you're looking to start a new career in the IT industry, I am confident you will also learn a lot from this book to get off to a great start in your career. Job titles in the tech industry are extremely varied, so whether you call yourself an IT pro, a developer, or any other title, this book was written with you in mind.
Who is this book not for?
If you already love your job, lead a healthy and balanced life, and feel in control of where your career is heading, then this book is probably not for you. However, you might gain some insights into the struggles that others are experiencing, which may help you to support your friends and colleagues as they build their own careers.
Which formats will be available?
Surviving IT will be available in PDF/EPUB, Kindle, and print formats.
---
About Paul Cunningham
I've worked in the IT industry for more than 20 years. As an Office 365 and Exchange Server specialist I've worked with customers around the world, and seen my fair share of good and bad workplaces. After carving out a good work/life balance for myself, I'm sharing what I've learned over the years to help others create a happy and healthy career in technology.
I'm the founder of Practical 365 (formerly Exchange Server Pro), a leading community site for Office 365 and Exchange Server technical content. My contributions on the blog and elsewhere earned me the Microsoft MVP award for seven straight years.
After a successful 12 years of blogging, in 2018 I retired from Practical 365 to focus on new business ventures.
I've self-published many books over the years, and written for Microsoft Press. I'm also a Pluralsight author, creating video training content for IT pros.
I live in Brisbane, Australia with my wife and kids. In my free time I enjoy trail running, playing my guitar, cooking great food, and losing to my kids on the PS4.